#FUTUREinSLOVAKIA 8 minutes of reading
Farmer Jozef Žatko: People in horticulture are also hungry for innovation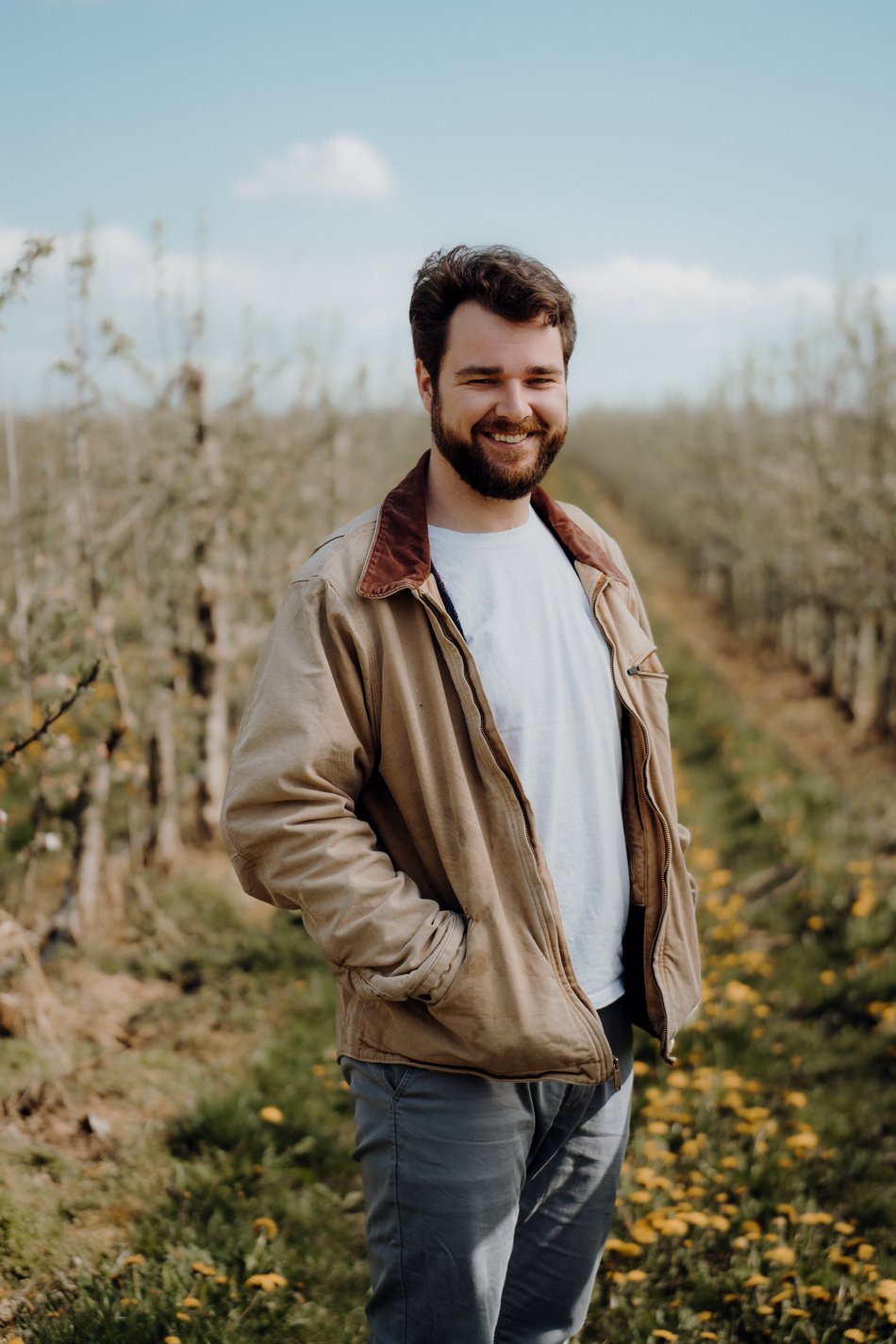 Jozef Žatko grew up among fruit trees in a family farm. During his studies, this setting was replaced by skyscrapers and prestigious universities in London and New York. He decided to bring his experience with innovative start-ups and state-of-the-art technologies to Slovak orchards. 
In this article you can read about:
How farmers save fruit crop from frost
What he got from the studies at renowned universities in London and New York
Why he returned to a village with less than 800 inhabitants
What the future of horticulture and agriculture will look like
Whether apples will be harvested by drones 
He already picked apples as ten years old
Talking to Jozef, we are right in the centre of things. Fruit trees can be seen from the window. "We had hard nights recently. Together with our people we worked to save the apricot crop. The temperature dropped below the freezing point at night. We had to use special gas heaters," explains Jozef, who has been helping his father with the fruit picking in the orchards since he was ten. The apricot crop was saved this year.
As a family company, Bioplant employs fifty people during off-season time and more than a hundred during the harvesting. They grow apricots, cherries and strawberries on a land with an area of more than 80 hectares. The largest area, making up 80 percent of the orchard, is grown with apple trees.
"If you network well, you can quickly connect with people. You can make contacts in Slovakia in half a year, while in America it would cost you 15 years of your career."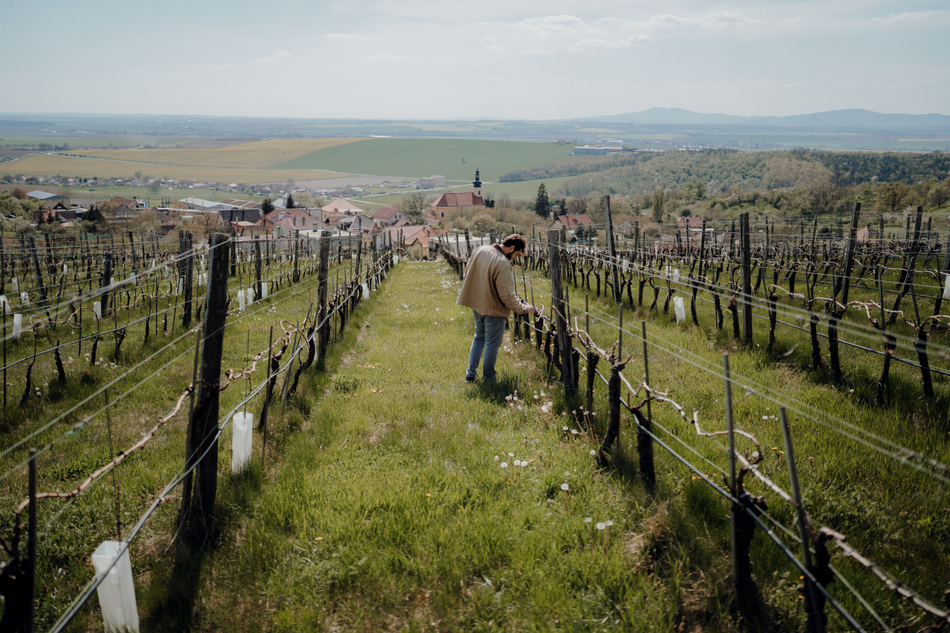 London, New York, Ostratice
Already during his secondary-school study, he wished to gather experience at a foreign university. "I was motivated by the experience of my acquaintances who studied abroad. Also, as my parents have diplomas in biology, I wanted to bring a different specialisation to the company," says Jozef. However, choosing the right field was a bigger nut to crack.
Jozef's grandparents on father's side are artists. His grandfather was a professional painter, taught by the reputable artist Ľudovít Fulla. His grandmother, a professional restorer, prepared Jozef for photography study at the Academy of Fine Arts and Design. The choice fell on Marketing at the University of Westminster, which was a compromise between creativity and an economic focus.
He also studied for a year in New York, which he describes as a hassle. "Half of the credits were supposed to come from business. It was a glimpse into the start-up world and businesses starting from scratch. After returning to London, I took the opportunity to switch to a different field - innovation, small business entrepreneurship. It was a kind of minor MBA: we were doing projects all the time and it was all about teamwork and fast sprints," Jozef Žatko describes his years as a student.
He gained significant experience at the GreenLab incubator, where he had opportunities to use a range of technical equipment, from a soldering iron to a 3D printer. "It was like a totally different world. I was meeting people from foodtech start-ups. They were able to scale a product from a small idea to a global level, or use blockchain for food traceability solutions, such as for checking the authenticity of a rare wine ..."  
It was at GreenLab that it started considering the return home, to Ostratice. Jozef felt he was drawn more and more to food processing and horticulture, and he planned bringing digitisation into this field, especially in Slovakia. "Besides, as the oldest of eight children, I wanted to advance the company." Also, many of my friends began to return to Slovakia from prestigious world universities. They came to see that the knowledge and experience they had gained could be utilised here."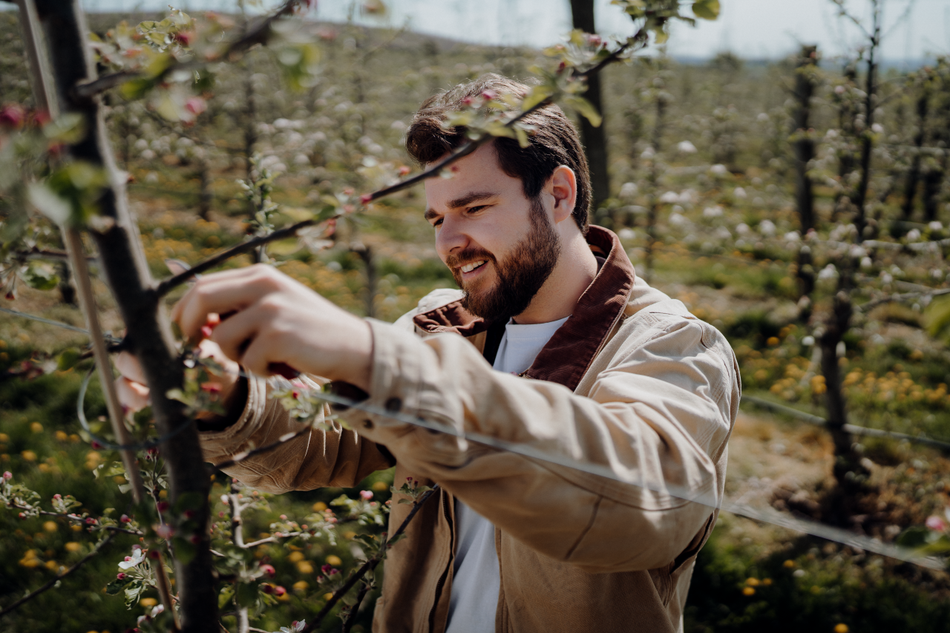 Picking fruit by drones? 
Jozef Žatko returned to Slovakia after seven years at foreign universities to help the family-run company with a 20-year history. While he can see the orchards through the window, Jozef's work mostly takes place behind a computer. Handling the bureaucracy around EU funds, coordinating the fruit harvesting and searching for antifreeze irrigation solutions are also on daily agenda. However, when Joseph talks about innovation and technology, his eyes shine with enthusiasm. He describes the experience of a fair in Berlin where he saw a picking platform prototype. The platform with drones is advancing along a row and the drones remove apples from the tree and place them straight in baskets.
"Our care of trees is mostly uniform, while each tree is unique. In a few years, we will be able to treat plants individually. Each plant will have a virtual twin on which vitamins and substances will be tested," Jozef describes.
He sees the upcoming transformation of Upper Nitra as a great opportunity. The mining region closes mines and looks for innovative projects. "I and my colleagues from the Slovak University of Agriculture are preparing a biological orchard project. We want it to be carbon neutral, which means that electrically driven machines would be operated there and, at the same time, it would be almost autonomous. As an industry, we are not that far yet; winter pruning, fruit sorting and harvesting are still done by people, but the future trend will be robotic harvesting."
"When a sedulous and disciplined person comes to a region, they can achieve a lot despite bureaucracy."
Farming traditions with technology innovation
Jozef also sees his role in the family business as striking a balance between traditions and the necessary digitisation of the industry. "My father, a very traditional and good man, wants to give people a job for twelve months a year. I'm the opposite: I look to technology. As an industry, we are getting into a crisis as there is nobody around to pick the crops. Fewer and fewer Slovaks want to do a repetitive work. They are more educated and skilful - which is great, but this drives us into dependency on workforce from abroad," Jozef explains. He claims that farmers welcome the transition to digitisation and technology, as picking accounts for a half of the cost of an apple.
But he at the same time adds that we can't do without orchard workers. "What I appreciate about our people is that they are very versatile. They have experienced many seasons, are good at orchard work and know what trees need. They have no trouble sitting into a tractor or grafting a tree; they simply know how to do things. We value such people very much."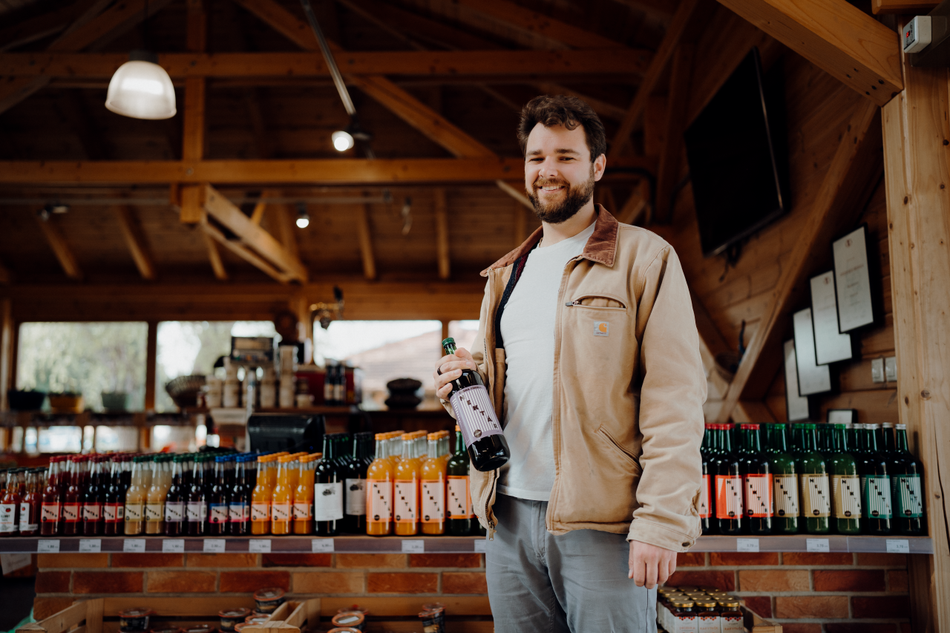 Slovakia as a paradise for networking and interconnecting good ideas
He acknowledges that we are a few years behind in the digitisation of agriculture, but he at the same time sees a great advantage in a good access to networking options.
"If you network well, you can quickly connect with people. You can make contacts in Slovakia in half a year, while in America it would cost you 15 years of your career," Jozef describes. He was also a mentor in the Leaf programme.
His experience from abroad has taught him not to be afraid to pick up the phone and get rid of shame. "We need to keep an open mind and stay modest. We all tend to think of a man who invented a big thing that it just fell straight into his lap. The truth is that sometimes you don't even know what you are doing, and it just comes out well," Jozef Žatko concludes.  
Where does Jozef see Slovakia in ten years?
"I believe that Bioplant will be able to grow locally high quantities of quality fruit for the Slovak market. I hope that with the Recovery Plan, a transformation of Slovakia will start so that both young and old people can live in a country with a good education system and reliable healthcare. I believe that we can produce more green energy and we will cease being so dependent on fossil fuels. I would like us as a country to be able to work on things with added value. Even if the automotive leave, Slovakia should still be able to offer an alternative in the form of education and research and added value from people and companies." 
#FUTUREinSLOVAKIA
At Slovenská sporiteľňa, we believe in the cleverness of Slovak people, hence we have created an offer for those who want to come back to Slovakia to build values and a successful story for our country. In partnership with GROWNi, we bring interesting internship opportunities for university students who are ready to work on themselves and their better future during their studies. 

Jozef Žatko
Jozef Žatko (1992) comes from the village of Ostratice, which is found near Partizánske. He is the eldest son of eight children and for ten years already he has been helping at Bioplant, the fruit farm run by his family where they focus on large-scale fruit production with an emphasis on the ecological coexistence with nature. He studied marketing and business at the University of Westminster in London, and for one year at Seton Hall University in New York. He was a Leaf mentor. After seven years abroad, he returned to Slovakia because he wanted to bring innovation and technology to the family business and the agricultural sector. He is a team leader at ProneaHub, an incubator engaging in education and character development efforts to build a community ecosystem and transform the Upper Nitra region into a good location for living and working.